Manu Brazo
Spanish Saxophonist Manu Brazo is joined by violinist Claudia Gallardo and pianist Prajna Indrawati for their REVIVE concert programme.
Watch this concert until 31st May at midnight.
The concert programme REVIVE was thought up when there was a world without live music. Created by Spanish saxophonist Manu Brazo the audience will hear popular classical music arranged in a new format with a fresh and modern sound performed by a unique ensemble of saxophone, violin and piano. Manu Brazo is joined by violinist Claudia Gallardo and pianist Prajna Indrawati.
The concert will be close and intimate, full of emotion and excitement. Manu communicates with his audience through the music as well as stories and anecdotes about the pieces and his own journey.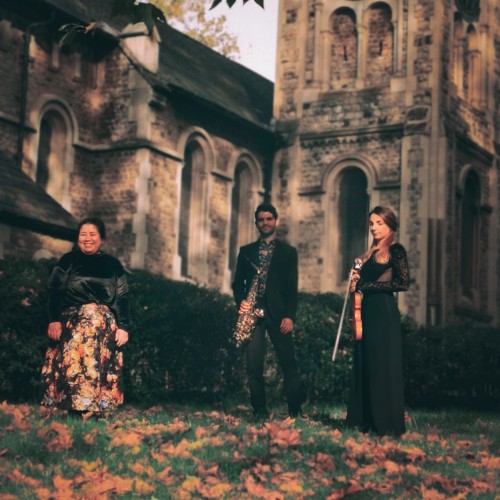 Programme
Intermezzo Cavalleria Rusticana ~ Pietro Mascagni (arr. Claudia Gallardo)
Danse Espagnole from 'La Vida Breve' ~ Manuel de Falla (arr. Claudia Gallardo)
Fantaisie Brillante sur Carmen ~ Borne (arr. Iwan Roth and Raymond Meylan)
Eight Pieces for Clarinet, Viola & Piano Op.83 ~ Bruch
2. Allegro con Moto
5. Rumänische Melodie. Andante
6. Nachtgesang. Andante con moton)
7. Allegro vivace, ma non troppo
A Gershwin Fantasy ~ Ralph Martino
Sevilla ~ Isaac Albéniz (arr. Claudia Gallardo)
Danny Boy (Farewell to cucullain) ~ (arr. Kreisler)
Czardas ~ Vittorio Monti (arr. Claudia Gallardo)
Enjoy this excerpt from Manu's concert - Monti's Czardas
About the Artists - Manu Brazo
Manu Brazo is a Spanish saxophonist who has established himself as one of his generations most versatile young musicians. At ease on the stage he is often praised for his unique sound and virtuosity as well as having the ability to have a close and intimate relationship with his audience. He regularly mixes a musical and often technically challenging performance with anecdotes about himself or the composers.
Over the last few years Manu has been a regular recitalist at british and international music festivals such as Leeds International Concert Season, Tetbury Music Festival, Newbury Spring Festival, Aegean Arts Festival in Crete and Risor Kammermussikkfest in Norway. He has also given solo performances throughout the UK and Europe and played with the London City Orchestra, RCM Philharmonic, Orquesta Betica de Camara and Orquesta Filarmonia. In 2018 he was selected to take part in the Britten-Pears Young Artist Programme where he performed at the Snape Maltings Proms conducted by Marin Alsop. Manu has also been a regular guest on BBC Radio 3 In Tune.
In the summer of 2019 Manu, accompanied by pianist Bryan Evans MBE, was invited by promoters Live Nation to be the opening act for Sir Cliff Richard at Greenwich Music Time Festival and to open 'Downton Live' at Highclere Castle to audiences of around 12,000 people.
The global pandemic in March 2020 saw all his forthcoming concerts, masterclasses and debut recording in Italy cancelled. Determined not to give up Manu took a different route and built his own recording studio, learnt how to edit to a professional standard and recorded his debut album Solo Dialogue which was released in June 2020. A collection of five solo saxophone tracks with accompanying videos with the aim to express the different emotions that Manu experienced when the world shut down. The recording and videos have been supported by Classic FM on their social media sites.
Born in Seville, Manu started to play the saxophone at the age of 9. Having studied in Spain he was accepted at the Royal College of Music where he graduated from his Master in Performance and Artist Diploma with Distinction and won numerous awards. As a young musician Manu has received support from Making Music (PDGYA), The Musicians Company, The Tillet Trust, Drake Calleja Trust, Concordia Foundation and Talent Unlimited. Manu lives in London.
Prajna Indrawati
Indonesian pianist Prajna Indrawati honed her Master of Performance degree in Piano Accompaniment at the Royal College of Music under tutelage of Roger Vignoles, Kathron Sturrock, and Simon Lepper. She performed at the Victoria and Albert Museum, Royal Festival Hall, for BBRadio3 "in Tune", in St. James Picadilly, Kings Place London, Newbury Spring Festival, Alderney Music Festival, etc; as well in Seville (Spain) and Creete (Greece). She was awarded second place for Accompanist Prize in "Brooks- van der Pump" English Song Competition and Joan Chisell Schumann Competition and Titanic Memoriam Award for accompanist in Lies Askonas Competition 2018. She joined Jakarta City Philharmonic as a soloist in Mozart Piano Concerto c minor. Prajna has worked as an accompanist for singers and choirs across Asia and Europe. In 2020, together with Soprano Sofia Livotov, they received support from Help Musicians UK.
Claudia G Uriarte
Claudia was born in Cadiz Spain where she started learning violin aged 5 at the International School of Algeciras. She studied for her bachelor of music at the Conservatorio Superior de Música de Sevilla and finished her Master in Performance at the Guildhall School of Music and Drama with Jacqueline Ross. Claudia has performed at the Barbican, Southwark Cathedral, St James's Piccadilly, Milton Court Concert Hall as well as with many youth orchestras in Spain, including the Orquesta Joven de Andalucia where she was concertmaster. She has played under the baton of Marin Alsop, Michael Thomas, Takuo Yuasa, John Axelrod, Thomas Søndergård, Arturo Tamayo and Manuel Hernández.
△ Book
▽ Close