Perth Festival Online 2021
Join Perth Festival of the Arts for 10 arts-packed days of online concerts and events from 20-29 May.
After 29th May, concerts that broadcast earlier in our series will no longer be available to view. You may wish to purchase individual event tickets rather than a Pass as a number of concerts in the Pass are no longer available.
---
2021 will see a Festival like never before! From 20th May, we're opening the doors to Perth's much-loved cultural spaces and showcasing the city to audiences around the world through ten days of concerts and events broadcast online.
The Online Festival will feature all the diversity of a 'live' year including classical, jazz, indie-rock and folk music, drama, literature, children's events and the visual arts.
For £60 you can pick up an Online Festival Pass and access 20 concerts and events broadcast during the Festival run. Concerts* are available to catch-up on demand for 9 days after broadcast (*excludes Wonderland).
For the Festival programme visit our What's On page.
Alternatively, buy a ticket for each individual event (£5-10) or buy a 'series pass' to enjoy your favourite genres as below: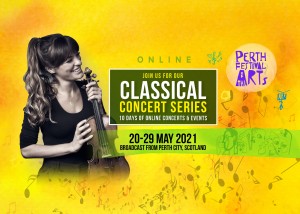 Classical Concert Series Pass £50: Classical music remains at the core of this year's festival with world-class artists taking the stage. Tune into eight uniquely programmed and produced concerts, catching up 'on demand' for ten days. Performers include the Scottish Chamber Orchestra with violinist Nicola Benedetti, The Sixteen, pianist Isata Kanneh-Mason, and the pioneering Scottish Ensemble. You can catch up on all broadcast concerts for 10 days.
Extra Concert in Classical Pass just announced: We are delighed to annouce that Scottish Opera's new production of L'elisir d'amore will premiere on 17th June in partnership with the Festival. Your free ticket to the opera will be automatically included in the Classical Pass.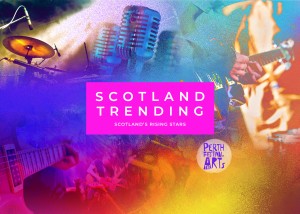 Scotland Trending Series Pass £20: The Festival has launched a brand new music series 'Scotland Trending' featuring the nation's best up-and-coming solo artists, bands and ensembles. Over 6 late-night online sessions from 24-29 May, filmed in Perth Theatre Studio, enjoy no less than 16 rising stars across jazz, folk, indie/rock, and classical performance. You can catch up on all concerts for 10 days.
△ Book
▽ Close